PAPPYS WHOLESALE MEMBERSHP & AFFILIATE EARNINGS PROGRAM
RETAIL CUSTOMER INCOME
Earn money when you sell product to customers at retail price. Create income when you purchase the product wholesale and sell it at the retail price. You keep the difference! EXAMPLE: Buy $125 worth of product for only $100. Profit of $25 if sold at retail price! Do this 4 times and the profit you make buys more product.
BINARY INCOME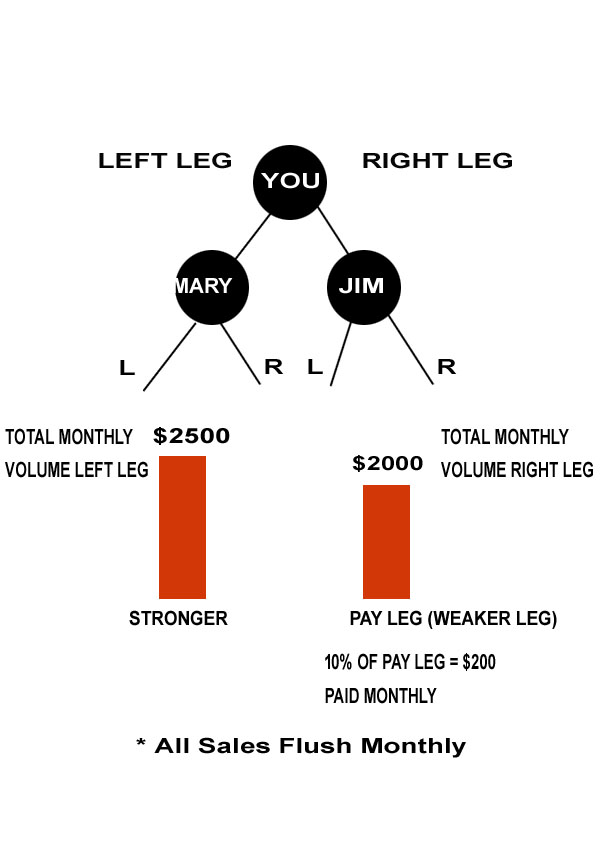 MONTHLY QUALIFYICATIONS FOR COMMISSIONS
STEP 1 – REMAIN ACTIVE by ordering $100 EACH MONTH.
STEP 2 – Maintain at least 1 personally enrolled Active AFFIALTE PURCHASING $100 EACH MONTH on each Binary Leg (LEFT AND RIGHT)
STEP 3 – Get paid 10% on Pay Leg (Weaker Leg)
The Volume generated on both Binary Legs contributes to the monthly commissions. Each Associate's product purchase contributes to the Volume of the Binary Leg they are placed on.
Each AFFILATE you enroll will be the head of a new Enrollment Team LEG. They will have a left and right leg as you. Every person below them in the Enrollment Tree will contribute to the Volume within that Enrollment Team.
The Binary Leg with the lesser amount of Volume within a calendar month is called the Pay Leg. You are paid 10% on the WEAKER LEG (PAY LEG).
MONTHLY COMMISSIONS: PERSONAL VOLUME REQUIREMENTS Generate $100 personally in sales during a calendar month and one personally enrolled AFFILICATE ON THE LEFT AND RIGHT LEG and you will be eligible to earn Monthly Commissions for that month. Commissions are paid on the 15th of the following month.
READY TO GET STARTED?
SIMPLY CLICK ON THE MEMBERSHIP SUBSCRIPTION BELOW.
only $49
Your first step on your way to becoming a Pappy's Jerky Affiliate. Join Now and receive 20% OFF retail.